Daniel Kolenda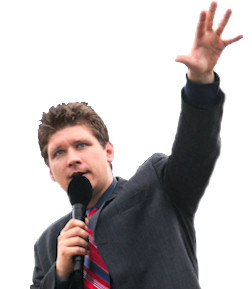 Evangelist Daniel Kolenda is a fifth generation preacher who received a calling to take the Gospel to the nations as a young boy.  As a teenager, his life was radically changed after an extraordinary encounter with God's power that ignited a passionate burden for the lost.
After graduating from the Brownsville Revival School of Ministry in Pensacola and Southeastern University in Lakeland, he went into church planting and pastoral ministry before launching out onto the evangelistic field.
It was at one of Reinhard Bonnke's Great African Crusades, that Daniel first saw the massive crowds of people being saved, healed and filled with the Holy Spirit.  And it was there that the Lord renewed the burden in him to take the Gospel to the nations. In obedience to God's voice, Daniel launched out into full-time, evangelistic ministry through International Gospel crusades and conferences.
Daniel now ministers full-time with Christ for all Nations. In his meetings alone, Daniel Kolenda has led over 8 million to Christ and preaches the Gospel with a burning heart around the world.
Daniel lives in Orlando with his wife Rebekah and their children, Elijah, Gloria and London.