November 2, 2010
Off to Ogbomosho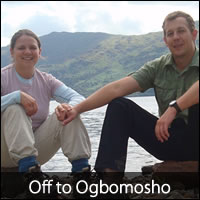 Richard Meikle describes his excitement on hearing he was the winner of a £3,000 trip of a lifetime with Evangelists Reinhard Bonnke and Daniel Kolenda.
For the last 5 months Christ for all Nations has been running a promotion where two people from the UK were given the opportunity of winning an all expenses paid trip to attend one of Evangelist Reinhard Bonnke's and Daniel Kolenda's great gospel campaigns.
The winner of the promotion was announced as 31 year old Richard Meikle from Nottingham Christian Centre who after 4 weeks of being married has decided to take his wife Tara with him. Well done Richard on making that tough decision!
The campaign will be held in the Nigerian city of Ogbomosho. An evangelistic campaign was held their by CfaN in the year 2002 attended by a total of 2.59 million people!  We go back there for the hundreds of thousands of people who need to know about Jesus and accept Him as their saviour!
You can stay updated with Richard's and Tara's experience during their epic week from the 8th to 14th November via the Christ for all Nations website at www.cfan.org.uk via daily blogs.
We took a moment to ask Richard a few questions in order to get to know him a little bit more and find out his aspirations for this trip:
Q. Tell us Richard how you came to know Jesus?
A. I was fortunate to be born in Zimbabwe into a Christian home, and was brought up in the church, however I had life changing encounter when I was 20, when I had a very personal revelation of God's love for me, and the price Christ paid for my salvation. I can honestly say that my life has not been the same since.
Q. How did you feel when you heard that you were the trip winner and did you really have any expectation of winning!
A. I was very surprised when I heard that I had won the competition, I had almost forgotten that I had entered a couple of months ago, I didn't think I would win when I entered, and I was really just very interested to find out more about what CfaN is doing at the moment.
Q. You are on staff at Nottingham Christian Centre – What do you do there?
A. Yes I'm on staff at the Christian Centre in Nottingham (AoG). My role here includes running of the Alpha Programme and overseeing the development and delivery of the courses we run here, as well as maintaining our websites.  I spend time journeying with various people who are in my life as they explore the Christian faith for the first time so I am very much involved in evangelism.
Q. Now that you have had time to digest that you are the winner, what aspirations do you have for the visit to Ogbomosho?
A. I am very excited to visit Ogbomosho with CfaN, to witness what God is going to do there, and to see firsthand lives changed as they encounter the true living God.
Q. How do you think the visit will affect you?
A. I think the visit will open my eyes to a form of evangelism that I have not been very exposed to and on a scale that I have never seen before. I think that it will greatly challenge me as to what God can do, when we have the faith to believe Him.
Q. How will you prepare for this trip?  Are you seeing it as an opportunity to grow spiritually?
A. My wife and I are both looking at this trip as a huge opportunity to grow spiritually and to experience more of God. We are trying to talk to people who are more familiar with the scale of these crusades, as well as spending time praying for the people that are going to meet with God in Ogbomosho.
Q. Were you at all familiar with Reinhard Bonnke/Daniel Kolenda and the work of CfaN?
A. Yes I was familiar with Reinhard Bonnke and CfaN, a few years ago I read one his books and was deeply impacted by his passion for the gospel in Africa, which is a passion I share with him. I have also heard many people talking about their experiences at some of Reinhard Bonnke's earlier crusades over the years.
Q. What did your wife think about you winning the trip?
A. My wife was as surprised as I was about winning the trip! But she is also very excited about it and grateful too for this opportunity to see God at work. We are very excited and looking forward to this trip, and are humbled that we have been blessed with this opportunity.
There is no doubt that Richard and Tara will have an amazing time. We would ask you all to keep them, the CfaN team, Reinhard Bonnke and Daniel Kolenda and the people of Ogbomosho in your prayers. Don't forget next time you see CfaN promoting anything like this to join in as next time this might just be you!
Yours in the Gospel,
Mark Oakes – UK Director.