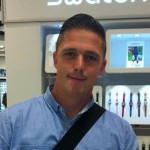 I grew up in my family owned pub in Bolton where I had a normal life. When I was about 14 I started smoking, drinking and getting into petty crime. By 16 this was escalating and I got to a point where I was using heroin everyday, needing it to feel sane (so I thought). It was this year I overdosed for the first time.
I woke up in hospital, wires coming out of my body from everywhere. After a week I was released. I managed to stay away from heroin for a month then before I knew it; I was a user once again. This time selling it and stealing to support my habit. Over the next few years I overdosed 3 more time the last overdose resulting in an injection in the heart to bring me back to life.
I remember my dad saying to me there is someone looking after you upstairs (they were my dad's words). This shook me up, but still didn't stop me using.
There I was again, using heroin and praying that when I am in court they would send me to prison. I got two years and whilst in prison I decided to get clean. I needed to change my life, so when I was released ,i booked a flight to Tenerife. Over the next 8 years although clean from heroin, my life was a party of country hopping, drinking and using other recreational drugs. Finally after a failed marriage and the birth of my son I went back to Tenerife where I ended up on the streets.
I was offered the chance to go to a Christian rehabilitation centre. Whilst in there, I started to read my bible and other peoples testimony's of what Jesus did for them, What God can do with broken life's amazes me. I gave him my life and he began restoring me after 15months rehabilitation. I went to work at a Christian drop in centre helping people who I had once been like it felt amazing to be giving back.
I moved to Epsom 3 years ago, where I now live with my wife. since coming back I have established a homeless drop in centre were we show Christ in actions, which is seeing amazing fruit! we are now joining a team of people that shall be planting a church in Kingston upon Thames, where we plan to spread the Gospel, to the high society and the down trodden. God is working through my cracks, which now shines the light of Jesus out 🙂